Frequently Asked Questions
How much would it cost to have my windows cleaned professionally?
Window cleaning prices are determined based on a few different factors.  When pricing a window cleaning job for the first time we take into account:
How dirty are the windows?
Are they stained and can the stains be removed?
How many windows do you have?
Is it a 1 story or 2 story home?
Do the windows have glue or paint overspray on them?
Do you want the windows cleaned inside or out?  Or just on the outside?
Once these factors are taken into account then we can get an accurate idea on how much it would cost to have your windows professionally cleaned.
Warning:  If you call another company and they give you a price based only on the amount of windows you have, beware of hidden add on charges in the end like stain and paint removal costs, or extra charges for screen cleaning that could affect your overall cost.  Many homeowners call in and say they've been told one price over the phone from local competitors and when the technician shows up to do the job the price is inflated to reflect the extra add ons that weren't mentioned over the phone.
How long will the window cleaning take?
A 1200-2000 Sq. Ft. house will take a professional window cleaner approximately 1.5 – 2 hrs to clean the windows inside and out.  If you just want the outside cleaned it would take about 1-1.5 hrs.
A 2100-3500 Sq. Ft. house will take a professional window cleaner approximately 2.5 – 4 hrs to clean the windows inside and out.  If you just want the outside cleaned it would take about 2 – 3 hrs. 
A 3600-5000 Sq. Ft. house will take a professional window cleaner approximately 3.5 – 4 hrs to clean the windows inside and out.  If you just want the outside cleaned it would take about 3.5 – 4 hrs.
A 5100 + Sq. Ft. house will take a professional window cleaner approximately 6 – 8 hrs. to clean the windows inside and out.  If you just want the outside cleaned it would take about  4.5 – 5.5 hrs.        
Please note:  A two man window cleaning crew will get the same jobs done in about half the times listed above                                                                                                                   

Are you licensed & insured?
Should I get my inside windows cleaned?
Many homeowners like getting their inside windows cleaned at the same time they have the outsides done as well.  Inside window tracks, sills and ledges accumulate a lot of dust and dirt that could be effecting your family's health.  Many times the dust and dirt gets blown around the house when the air conditioner and fans are on which may be the cause of those stubborn allergies that keep acting up.
Having your window cleaner clean the inside sills, tracks and frames will eliminate any air born pollutants caused by the dirt and dust in hard to reach places.
What if it's raining?
If it looks like it's going to be raining all day on the date of your scheduled appointment we will call and get you rescheduled for the next available appointment.  If the forecast calls for scattered showers through out the day we will contact you to see if you would like to reschedule.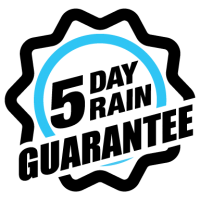 If for some reason it rains within 5 days after your window cleaning please call us for a FREE touch up!
Does someone need to be home while the window cleaning is being done?
The homeowner does not need to be present when only the outside of the windows are being cleaned.
However, if you are getting the inside of your windows cleaned it's recommended for first time clients that you are home while the window cleaning crew performs the work.
Do I need to be home for you to give me an estimate?
It is not necessary for you to be home for your window cleaner to give you an estimate unless you have a specific job that requires inside attention.
If you are short on time and need and instant quote ask your window cleaner if you can snap a few pictures of your windows with your smart phone or tablet and email or text them over for a quicker response.  You can also click or tap here to fill out our project form to receive a free online estimate in less than 5 minutes.
Are the tracks included In my estimate?
All window sills and exposed tracks are wiped clean of any excess water or light build up of bugs and dirt after cleaning each window. However if you want to have the window and door tracks scrubbed out and sanitized there is an additional charge.
Does estimate include cleaning the screens?
Yes.  All window screen and patio door screens up and down and all around the house are included in the estimate your receive.  This does not include any screened enclosed areas unless specifically noted in the estimate or added to the project at the time of cleaning.
Can hard water stains be removed?
Usually we have about an 80% – 90% success rate getting hard water stains off the window glass.  Hard water spots are caused by the impurities in the water that leave a white build-up on the glass surface.
We use a product from Zep called Calcium, Lime and Rust Remover.  You can pick up a bottle at the Home Depot or Lowe's if you would like to do it your self.  Apply the solution to the glass using a squirt bottle or small towel.  Use a 4-6 inch razor to remove any left over build-up on the glass.  Then wash with soap and water and squeegee the glass dry.
If there are a couple windows that have spots from the sprinkler water around the house typically we do not charge to take the stain off.  If there are more than 3 windows that are stained we can include stain removal in your estimate.  For a more detailed explanation click here to check out our latest blog post for removing hard water stains.
How often should I get my windows cleaned?
Most homeowners we meet like to have us out once or twice a year.
We find that most of our clients also like knowing we take the time to remind them a few different times throughout the year. Allowing them to choose when they need us to come out.  Let us know your seasonal preference and we will mark our calendar, email you a couple weeks before to confirm your cleaning and text you when we are on our way.
If you live on or near the water it can be a challenge to maintain a clean view year round.  Click here to check out our monthly or bi-monthly salt maintenance plans.
How do I get a free estimate?
Call Us Today at (954)740-8006 to schedule your free estimate or find out the approximate price range over the phone.  tap here
Request a call back by filling out the form below and we will call you back to schedule your free estimate.  click or tap here
Get an online estimate by filling out our project questionaire  to receive an instant online quote.  click or tap here
Get A Facetime Estimate if you have an Iphone by calling us and request a call back to quote the cleaning that way.  tap here
How much does pressure washing cost?
Our pressure washing services include cleaning house walls and eves, patios, driveways, screen enclosures, patio furniture and roofs.  The cost for each one varies depending on the size of the area and how dirty the surface is.  Pricing starts from $75 for pressure washing items listed above except roofs.  Roofs are priced on an individual basis.
Will pressure washing harm my landscaping?
The main reason landscaping could be damaged by pressure washing isn't always to do with the cleaning being done.  Usually pressure washing hoses when pulled around the house to reach the next section can get caught around trees, newly planted flowers or shrubs, or sprinklers that stick out of the ground.
A pressure washer in a hurry will pull the hose past the point of tight when they end up snapping a tree branch, yanking flowers out of the beds or cracking a main sprinkler head.  Be sure to look into the reviews of the pressure washer you hire to confirm they are careful with outside plantings and sprinklers.
How long will it take?
Small pressure washing projects could take up to an hour or two.  Medium size projects could take 2-4 hours.  Larger jobs where multiple surfaces at one house are being cleaned could take a crew of 2 guys all day.  Usually 5-8 hours.  Since this service takes place on the outside only many times you do not need to be home for the work to be completed.  Coming home to a nice clean driveway, patio, screen enclosure or sidewalk sure does feel good.  Especially if you don't have to do it yourself.
Do I need to be home when the pressure washing is being done?
It is not necessary for you to be home for your pressure cleaner or their crew to perform the work.  It's a good idea to communicate with your pressure cleaner if you plan on leaving the house in the morning in case there are gates that need to be unlocked or your dog needs to be let in.
Can you get the oil spots out of my driveway?
Oil from a leaky car or truck that has dripped on paver brick or cement driveways usually does not come out completely.  Brick, stone and cement are extremely porous if they are not sealed correctly.  The oil seeps down through a few top layers making it real difficult for any chemical to lift it through those layers or pressure clean off.
Typically after using high pressure or chemicals on oil stains the stain will turn a lighter color but not disappear completely.  If your pavers show light oil marks after cleaning they could be concealed by applying 2 coats of high gloss sealer.  This will darken the natural color of the pavers and give it a more uniform look.
Do you seal brick pavers?
Yes.  Sealing your brick pavers will prevent oil, red wine, blood, or any other heavy color liquid from leaving a stain on your patio or driveway.  Get in touch today to request a free estimate to seal your pavers.
Do I have to pay anything for the job to begin?
No.  Unless you have a job that will last more that 3 days we do not require payment up front for work to begin.  Call today and schedule a time that will be good for you.  You can pay after the job is complete and you are 100% satisfied.
How do I go about making payment if I am not home after the work is complete?
You can call us @ (954)740-8006 to pay with a credit card over the phone.  We can invoice you and you can send a check.  Or you can write a check for the total amount of the job and leave it in a protective cover under your front door matt and we will pick it up the next business day.
Still need help?  Send us a note!