Pressure Washing Will Instantly Clean Your Dirty or Moldy Surfaces
Out of all the nozzles you buy for your hose at Lowes or Home Depot, doesn't it seem that they're just not strong enough get rid of the nasty mildew build up we get down here in South Florida?  There are some options besides hose attachments.  Some homeowners like to rent a pressure cleaner and do it themselves, some buy a  small pressure cleaner for around the house or they look into hiring a pressure cleaning company that specializes in private homes.
Hiring A Pro Pressure Washing Service Could Be A Huge Time Saver In A Pinch
i>Having A Party Or Event At Your House?  Get a quick online pressure washing estimate by filling out the project questionaire below or by calling us today for pricing options.  Appointments are available this week if needed.
Are You Putting Your House Up For Sale?  If your realtor tells you you should get some pressure washing done, clean up the windows and outside surfaces before you get your pictures done call us today for a free estimate or click below to start an online estimate.
Is Your HOA Handing Out Dirty Letters?  Keeping up with maintenance is hard enough.  HOA letters are a pain in the ____!  We can work with you in any situation to help clean up your property to meet and maintanin your homeowners' association standards.
30 Day No Hassle Money Back Guarantee.  If for any reason you are unhappy with our service within 30 days of your pressure cleaning please call and we will gladly give you a full refund.
We serve Pompano Beach, Parkland, Boca Raton, Coral Springs, Deerfield Beach, Fort Lauderdale and surrounding cities.
Whether you're preparing for the holidays, expecting out of town guests, throwing a party, or maintaining your home owners' association standards.  Pressure Cleaning is a great way to instantly improve the look of your home. 
At Eric's we maintain the highest quality pressure cleaning equipment available on the market.  Our pressure washing services are capable of removing harsh stains from your pavers, at the same time allowing a lower pressure setting to clean and sanitize your house eves and walls. Leaving your home looking like it just received a fresh coat of paint, watching the mold and mildew wash away…
Even your roof can get mildew, dirt, and grime buildup.  We have special roof pressure cleaning equipment to keep your roof pressure cleaning cost down and the beauty and cleanliness of your house up. 
4 Pro Tips To Help With Your Next Pressure Cleaning Project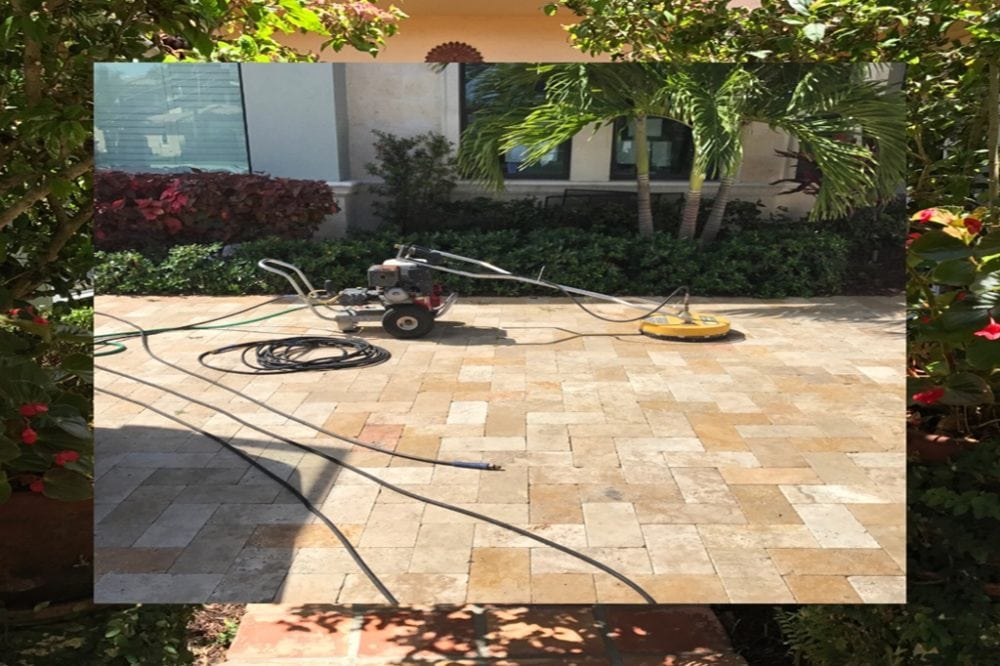 Tip #1
What type of surface do you need cleaned?  Is your driveway or patio paver brick, cement or an exotic stone?  Many times different surfaces require different amounts of pressure to ensure it is cleaned safely and properly.  Too much pressure will damage the surface and not enough may not remove the dirt or mildew at all.  Ask your pressure cleaner if they are familiar with the surfaces you want cleaned to avoid any damage.
Tip #2
Ask your pressure cleaner if they use any chemicals.  If the pressure cleaner you hire is going to be using any chlorine on your project make sure they protect the vegetation it may effect.  Sometimes a light mixture of chlorine and water before the pressure is applied will loosen the mildew and mold making it easier to clean rather than using high pressure taking off house paint or paint on the driveway or patio.
Tip #3
Rust stains from sprinkler water can be removed.  If you have a paver driveway that is stained from sprinkler water, a product called Cobble Oxide will remove the stains.  Ask your pressure cleaner to do a test area to show you the before and after results.  If your driveway, patio or sidewalk is cement like the one pictured above pre treating the surface with pool chlorine works like magic to remove any rust or mildew stains.
Tip #4
An attachment called a hover cover will give you the best results.  Using a pressure cleaning "wand" or "gun" on outdoor surfaces can take one guy all day long as well as leave dirt lines in your pavers or cement depending how close the tip was to the surface.  A hover cover is a 14″-16″ brushlike attachment for a pressure washer that cleans more evenly resulting in a faster and more efficient pressure cleaning.
Schedule Your Free Window Washing Estimate Today
Please fill out the form below and we will get in touch to schedule your FREE estimate
The Landings
Parkland Golf and Country Club
Heron Bay
Ivanhoe Estates
Southwest Ranches
Weston Hills Golf and Country Club
Jacaranda
Inverary Country Club
Woodlands Country Club
Hawks Landing
Palm-Aire
West Glen
Mariners Cove
Eagle Trace
Carolina Club
Pine Ridge
Boca Pointe
Ternbridge
Cypress Head
The Oaks
Long Lake Ranches
Long Lake Estates
Estancia West
Stonebridge
Polo Club
Hillsboro Pines
Hillsboro Ranches
Boca Woods
Stonebridge Country Club
Addison Reserve
Newport Bay Club
Boca Golf and Country Club
Whisper Walk
Hamptons @ Boca Raton
St. Andrew's Golf and Country Club
Ocean Breeze Golf and Country Club
Mizner Country Club
Fox Ridge
Kings Point
Bocaire Country Club
Broken Sound
Hidden Lake
Royal Palm Yacht and Country Club
Whispering Woods
Saturnia
The Isles East & West
The Bridges
Seven Bridges
Woodfield Hunt Club I & II
The Seasons
East Boca Neighborhoods
Sunset Lakes
Harbor Beach
Wyndmor
Galt Ocean
Sea Ranch Lakes
Meadow Run
Ternbridge
Saturnia Isles
LeLac
Santa Barbara
Boca Grove
Boca Falls
Boca Isles North & South
Estancia
Les Jardins
Millpond
Timbercreek
New Floresta
Woodfield Golf and Country Club
Fairfeild at Boca
Bay Colony